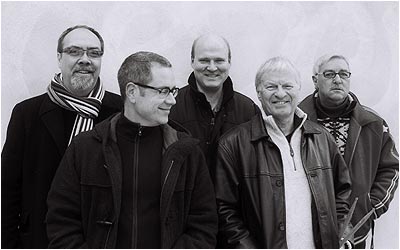 Poul Halberg (el.guitars)
Hans Ulrik (saxes)
Frans Bak (keys)
Bo Stief (el.bass)
Alex Riel (drums)

Top notch jazz/rock fusion from Denmark
During the 1980's SANTA CRUZ was one of the most successful fusion bands in Denmark. Since then each of the members have been leading their own groups and had great careers in both pop, rock and jazz.

A few years ago at a memorial concert for Jens Melgaard - the original bass player of Santa Cruz - the band got together again to play for the occasion. They were now assisted by bass player Bo Stief and sax player Hans Ulrik.

The reunion was an overwhelming success! The musicians were thrilled to be back on stage with each other playing that kind of music again ... the powerful, melodic jazz-rock fusion known from the 80s. And the audience loved it! It turned out that the "old" tunes still had the same kind of power and appeal; only now they were performed with a new musical approach and challenged by new compositions by Frans Bak, Poul Halberg and Hans Ulrik. And so the guys in "Santa Cruz" decided to reform and get out and play from time to time when their schedules allow it. They have been on a couple of tours already and have only had fantastic feedback!
Their CD "Cruzing" from 2006 is a live recording of a concert at the Copenhagen Jazzhouse.
CD review


Santa Cruz: "Cruzing" (Cowbell 2006)
"After a 25-year hiatus, one of Europe's premier fusion bands, Santa Cruz, reunited at the Copenhagen Jazz Festival in 2005 and demonstrated to the enthusiastic crowd that it's music was still as energetic as ever. The Danish quartet, led by drummer Alex Riel, delivered the retro sounds of '70s and '80s fusion, comprised of equal parts harmony, arrangements and heady improvisation. At a concise 41 minutes, the recording still packs a huge punch, with stimulating performances and well-developed selections that showcase the bandmembers' life-giving connections with each other and the crowd. " [...] "Santa Cruz gives listeners a bounty of good music on this memorable reunion. Encore!" (AllAboutJazz)

BOOKING:
Fyns Musikkontor
www.fynsmusikkontor.dk
post@fynsmusikkontor.dk
Band photo for download HERE

For bios & photos of each musician please see their personal homepages:
www.poulhalberg.dk
www.hansulrik.dk
www.bak.dk
www.bostief.com
www.alexriel.dk