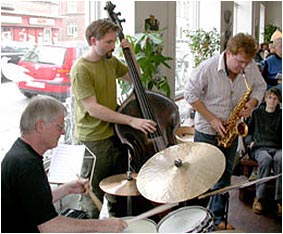 The initiative in forming this trio was taken by Danish altosax player Benjamin Koppel (born 1974) who grew up in an extraordinary musical family that has covered several musical genres. For instance Benjamin's father Anders Koppel was a founding member of the legendary rock-group Savage Rose and furthermore well-known for his work on the classical scene.
Benjamin himself soon showed an amazing talent as both a musician and composer. In spite of his young age he's already been extraordinary productive and is widely recognized for his work on the jazz scene as well as the classical scene and with various cross-over projects. Since his early teens Benjamin has been awarded with a long list of awards. Benjamin is furthermore founder of the successful Danish record label Cowbell Music.
In this trio Benjamin has teamed up with Swedish bass player Thommy Andersson (born 1973) who has been one of the most a sought-after sidemen in Scandinavia during the last decade. Tommy has played in most musical genres, from pop to bop, from punk to heavy .. and to Nordic jazz and avantgarde! Like Benjamin, Tommy has composed, played and recorded in countless constellations.
Benjamin's father Anders and drummer Alex Riel have known each other since the late 60s where Alex was part of the original Savage Rose band. And so Alex has literally known Benjamin from "long before he was born"! He didn't have to think twice when asked to join this trio as he has a great respect and fondness for Benjamin as both a musician and as personal friend.

Koppel – Andersson – Riel plays jazz standards and original jazz compositions by Benjamin. It's powerful, fun and swinging trio jazz that graps your attention right away!
The trio has released the CD "The Copenhagen Incident / Nordic Design vol. 2" (Cowbell Music). http://www.cowbellmusic.dk/articles.asp?id=24
BOOKING: booking@cowbellmusic.dk